Kashmiri Brand Saffron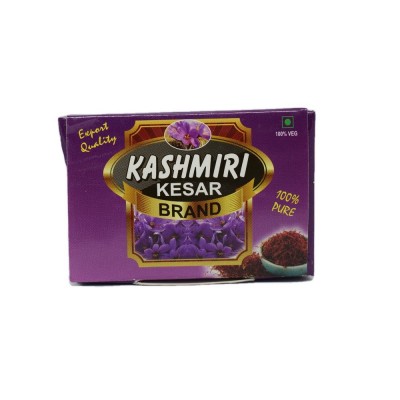 Cash On Delivery (COD)
This product is available for COD per our COD Policy
Return Policy
This product is covered under Return / Refund Policy if received in Defective / Damaged condition
Description:
Saffron is one of the world's oldest & expensive spice. Kashmiri saffron is valued all over the world for its fine quality.Saffron is widely used in sweets, medicine, soaps, cosmetics & other beauty products.It is an old age belief that pregnant women give birth to fair babies, if they have saffron while pregnancy.Saffron is the red stigma of the fall flowering purple crocus. Saffron threads change into a bright yellow color when used and should be applied sparingly as a spice because of its strong coloring and intense flavor and aroma. There is no substitute for its unique flavor and brilliant yellow color. Saffron Spices has the same integrity of flavor and aroma as saffron. The custom blends will blossom on your taste buds like flowers in the spring. The saffron of Kashmir has an exquisite lotus-like fragrance and is of a high quality. Kashmirisaffron also called Kashmir saffron is considered the best in the world for its distinctive long silky threads with a dark red color, extraordinary aroma and powerful coloring and flavoring capabilities. This is the world's most potent saffron and is not easily obtainable outside of its native India since almost all of Kashmir's saffron is consumed within India and little is left for export.
Health Benefits:
Saffron contains many plants derived chemical compounds that are known to have been anti-oxidant, disease preventing, and health promoting properties.

Their flower pistils compose several essential volatile oils, but the most important of them all issafranal, which gives saffron its pleasant flavor. Other volatile oils in saffron are cineole, phenethenol, pinene, borneol, geraniol, limonene, p-cymene, linalool, terpinen-4-oil, etc.

This colorful spice has many non-volatile active components; the most important of them is α-crocin, a carotenoid compound, which gives pistils their characteristic golden-yellow color. It also contains other carotenoids, including zea-xanthin, lycopene, α- and β-carotenes. These are important antioxidants that help protect the human body from oxidant-induced stress, cancers, infections and acts as immune modulators.

The active components in saffron have many therapeutic applications in many traditional medicines as antiseptic, antidepressant, anti-oxidant, digestive, anti-convulsant.

This novel spice is a good source of minerals like copper, potassium, calcium, manganese, iron, selenium, zinc and magnesium. Potassium is an important component of cell and body fluids that helps control heart rate and blood pressure. Manganese and copper are used by the body as co-factors for the antioxidant enzyme, superoxide dismutase. Iron is essential for red blood cell production and as a co-factor for cytochrome oxidases enzymes.

Additionally, it is also rich in many vital vitamins, including vitamin A, folic acid, riboflavin, niacin, vitamin-C that is essential for optimum health.
Medicinal uses:
The active components present in saffron have many therapeutic applications in many traditional medicines since long time as anti-spasmodic, carminative, diaphoretic.

Research studies have shown that, safranal, a volatile oil found in the spice, has antioxidant, cytotoxic effect on cancer cells, anticonvulsant and antidepressant properties.

Αlfa-crocin, a carotenoid compound, which gives the spice its characteristic golden-yellow hue, has beenfound to have anti-oxidant, anti-depressant, and anti-cancer properties.
Net Quantity

: 1g