Kanwal Bhiryani Powder - 50g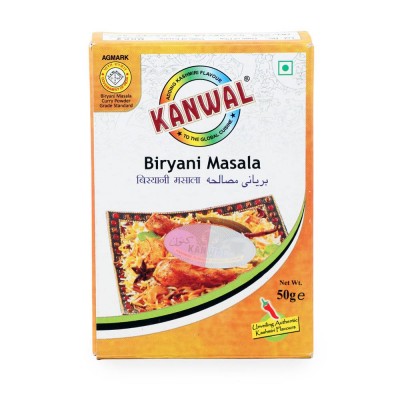 Cash On Delivery (COD)
This product is available for COD per our COD Policy
Return Policy
This product is covered under Return / Refund Policy if received in Defective / Damaged condition
Description:
Koshur CART brings to you, a rich, aromatic and flavorsome biryani Masala powder from Kanwals to add essential flavouring to your Biryani. Serve your yummy & delicious biryani to your friends, relatives and family and let the praises flow for your cooking. Kanwals Biryani Masala Powder will add the rich & distinctive flavor to any of your biryani, be it your mutton biryani or your chicken biryani.
Create magic with Kanwals biryani Masala and make any day a festive moment in your life. Enjoy a memorable meal with your dear ones, and let the others talk for your cooking
Ingredients:
Salt, red chili, ginger, garlic, dehydrated onion, cumin, nigella seeds, turmeric, coriander, green cardamom, black pepper, clove, mace , citric acid.
Net Weight: 50 g