Kanwal Mint Powder - 50g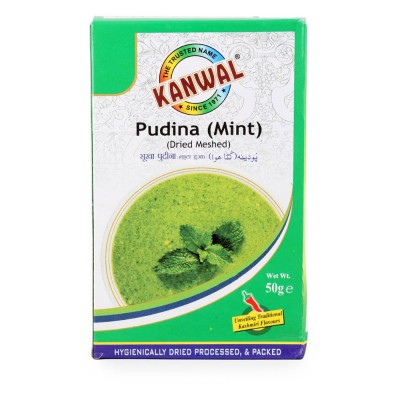 Cash On Delivery (COD)
This product is available for COD per our COD Policy
Return Policy
This product is covered under Return / Refund Policy if received in Defective / Damaged condition
Description:
Mints are aromatic, almost exclusively perennial, rarely annual, herbs. They have wide-spreading underground rhizomes and erect, branched stems. The mint powder is prepared from dried mint leaves.The mint leaf, fresh or dried, is the culinary source of mint. Dried mint powder is usually preferred as fresh mint has a short shelf life and is perishable.Mint powder is easy to store and can be added to any recipe of choice throughout the tear. Mint powder is used in tea, beverages, jellies, syrups, candies, and ice creams.
Koshur CART brings to you aromatic, best quality Kanwals Mint / Pudina Powder which is used to prepare many recipies, including curries, soups, chutneys, salads, juices, and ice creams. Kanwals Pudina Powder is prepared selecting best quality Pudina leaves passed through several Quality checks and then processed in controlled and good hyegenic conditions.
Health Benefits:
1. Mint powders are considered an aid to the digestive system. It is an appetite stimulant and aids in the secretion of gastric juices.
2. Mint was originally used as a medicinal herb to treat stomach ache and chest pains, and it is commonly used in the form of tea as a home remedy to help alleviate stomach pain.
3. During the Middle Ages, dried and powdered mint leaves were used to whiten teeth.
4. Mint tea is a strong diuretic. Mint also aids digestion, in a way that it breaks down the fats. In recent years, it has been often recommended for treating obesity.
Net Weight: 50 g