Kanwal Shahi Kehwa - 300gms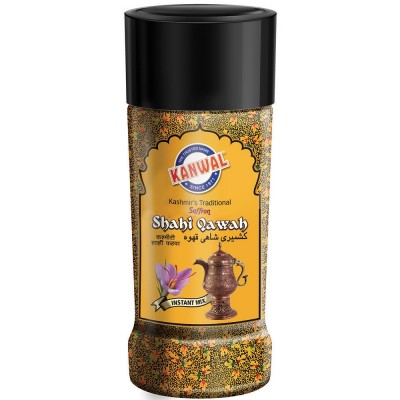 Cash On Delivery (COD)
This product is available for COD per our COD Policy
Return Policy
This product is covered under Return / Refund Policy if received in Defective / Damaged condition
DESCRIPTION:
Kahwah is a traditionaL green tea preparation consumed in Afghanistan, northern Pakistan, some regions of Central Asia as well as the Kashmir Valley. In Pakistan, it is made in the Khbyer Pakhtunkhwa, Gilgit-Baltistan and north Punjabregions. It is a popular breakfast beverage among Kashmiris, generally accompanied with special Kashmiri baked items like girda. Kashmiri Pandit migrants living in the North Indian Plains, particularly in the urban agglomeration of Delhi, have also contributed to the tea's popularity among non-Kashmiris.
Koshur CART offers Kanwals Kashmiri readymade Kehwa has the perfect blend of all ingredients to offer you the taste of traditional Kashmiri famous Kehwa. Due to its easy preparation its demand is high across the globe.
HEALTH BENEFITS:
Kahwa is a drink, that provides warmth, it helps to combat minor flues, and cures chest congestions! Its great for headaches as well!
Net Weight: 300 gms