Kashmiri Masala Tikki (Vaaer)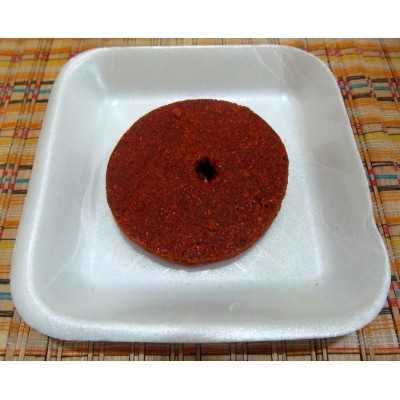 Cash On Delivery (COD)
This product is available for COD per our COD Policy
Return Policy
This product is covered under Return / Refund Policy if received in Defective / Damaged condition
Description:
Masala Tikki known as Vaaer in kashmiri is abundantly used in kashmiri kitchen. In fact this Vaaer reflects and represents the essence of kashmiri cuisine Aroma . The Masala Tikki is made from Spices like Cloves , Zeera , Red chilly powder , Saunf Powder ,Suund powder, Methraa ( Fenugreek seeds ) ,a pinch of Turmeric ,Garam Masala , Heeng (Asafoetida ) and Rohunn ( Garlic ) essentially. This Masala Tikki is particularly for thos who don't prefer Garlic as flavour enhancer though both have enormous medicinal properties .
Authentic kashmiri Vaaeri or Masala Tikki is available in kashmir , Jammu and new Delhi. Koshur Cart brings special Masala Tikki from Shikara Brand which has got good aroma and also good packing to resist transportaion wera and tear.
Some time back ,Kashmiri women would prepare these Tikkis themselves . This practice has been abandoned now. Vaaer or Masala Tikkis find use in marriage functions is considered as something auspicious. Vaaer Tikki is kept in a Thaali ( Plate ) as Vaaer Zung along with rice , a packet of salt and some cash to be handed over to the Head cook or Waaza as soon as he starts the cooking of dishes for the marriage feast.
Net Weight: 80 grams
Gross Weight: 85 grams